AP4-CH41 Amplifier Replacement Interface PAC AmpPRO
AP4-CH41
The AP4-CH41 provides a 6-channel pre-amp output for use with aftermarket audio equipment. Using the full range fixed level head unit output, in conjunction with CAN messages, the AP4-CH41 delivers a variable 5v RMS pre-amp output with fading, balance, equalization, and level control capabilities. The module also retains all audio from other vehicle features such as factory Navigation Prompts, Bluetooth, uConnect, and parking sensor chimes. A data controlled remote amplifier turn on wire is also provided by the AP4-CH41.With AmpPro you can improve audio performance white keeping an original radio's fit, finish and features AP4-CH21
Vehicle Compatibility: The PAC AmpPRO AP4-CH41 amplifier integration interface is compatible with the following 2013-2018 Chrysler, Dodge, Jeep, & Ram vehicles with a data-bus controlled factory premium sound system.
Make

Model

Year

Chrysler

200

2015-2017

300

2015-2018

Dodge

Challenger

2015-2018

Charger

2015-2018

Durango

2014-2018

Jeep

Wrangler (JL)

2018

Cherokee

2015-2018

Grand Cherokee

2015-2018

RAM

1500

2013-2018

2500

2013-2018

3500

2013-2018
Note: This interface is only compatible in vehicles equipped with a data-bus controlled premium sound system. To verify compatibility - look for an Alpine, Beats, or Harmon Kardon badge on the door speakers, center speaker, or factory subwoofer. If none of these brands are shown, check for the presence of a center speaker or subwoofer.
6Ch Pre-Outs: The PAC AmpPRO AP4-CH41 provides a 6-channel pre-amp output for use with aftermarket amplifiers. Using the full-range, fixed level factory radio output, in conjunction with data-bus CAN messages, the AP4-CH41 delivers a variable 5V RMS pre-amp output with fading, balance, equalization, and level control capabilities.
Non-Fading Level Control Knob: Channels 5-6 (Sub) of the AP4-CH41 are non-fading outputs. The output level of channels 5-6 can be controlled using the supplied level control knob. The level control knob comes with a 6' cable which plugs into the interface module and should be mounted in an accessible location.
Data Controlled Remote Turn-On: A data controlled remote amplifier turn on wire is also provided by the PAC AmpPRO AP4-CH41. The remote turn-on is rated at 2A of current. If more current is needed an external relay must be used.
Retained Factory Audio Features: The PAC AmpPRO AP4-CH41 also retains all audio from other vehicle features such as factory Navigation Prompts, Bluetooth, uConnect, and Warning Chimes.
Minimum & Chime Volume: If the minimum volume of your factory radio is too loud once the AP4-CH41 is installed, you can manually set the level of the minimum volume using either the programming button on the side of the interface or the factory SWC (Steering Wheel Controls) in conjunction with the supplied level control knob. You can also use AmpPRO PC app. You can also adjust the chime volume level.
AmpPRO PC App: Using the AmpPRO PC App (for Windows PC only) allows you to configure user interface options such as Minimum Volume Level, Chime Volume Level, and a 3-Band EQ from your Windows computer or laptop. The app can also be used to update product firmware.
Minimum & Chime Volume Level: From the app you can set the minimum volume level of the factory radio, as well as the chime volume level.
3-Band EQ: Enables the 3-band EQ (Bass-Mid-Treble) with frequency and Q-factory adjustment. The Bass Frequency can be set to 60, 80, 100, or 120Hz; while the Bass Q-Factor can be set to 0.5, 1.0, 1.5, or 2.0. The Mid Frequency can be set to 500, 1k, 1.5k, or 2.5k; while the Mid Q-Factor can be set to 0.75, 1.0, 1.25, or 1.5. The Treble Frequency can be set to 7.5k, 10k, 12.5k, or 15k; while the Treble Q-Factory can be set to 0.75 or 1.25.
Firmware: The AmpPRO app will also allow you to update the interface with new firmware as it becomes available.
Note: These AmpPRO PC App settings can be adjusted with the module installed in the vehicle or on the bench. However, it is recommended to make the adjustments with the module installed, and the factory radio on so that the changes can be heard.
Dip Switch: Set dip switch 2 to "ON" to lower the RCA output voltage to 4V. Set the dip switch 2 "OFF" to keep the RCA output voltage at 5V. Dip switches 1-3-4 are not used.
Optional Toslink Add-On Module: When used in conjunction with PAC's APA-TOS1 (APATOS1; sold separately), the AP4-CH41 can provide a variable 2-channel fiber optic digital audio output (toslink). Toslink fiber-optical cable also sold separately.
Optional Amplifier Harness: The APH-CH01 installation harness (541APHCH01, sold separately) simplifies speaker wire connections when using one the PAC AmpPRO AP4-CH41 to add an aftermarket amplifier or amplifiers in select vehicles that feature factory amplified sound systems. The APH-CH01 keeps you from having to cut or modify your vehicle's original factory wiring, providing "plug-n-play" connection at the vehicle's original factory amplifier location (you will need to make hardwire connections at the aftermarket amplifier/s).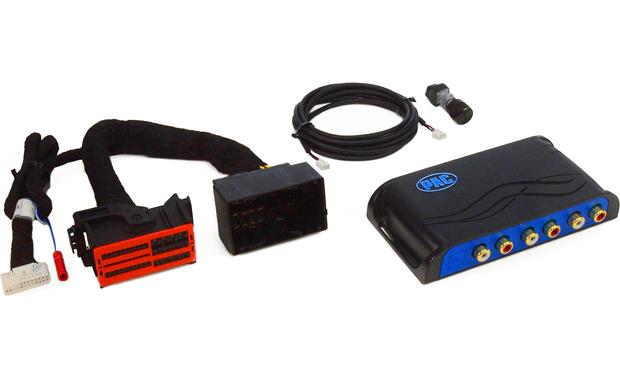 Click here AP4-CH41 For Instructions.
Free Shipping
For more information call us 1-407-9331065 or email sales@oemautosound.com
---