- Universal system, works with phones from all manufacturers
- Voice dialing, holds up to 200 names in memory
- User Friendly interface with LCD Display and Vocal Prompts
- Built-in GPS Receiver
- NMEA over Bluetooth GPS
- Compatible with such tested Navigation software as TomTom, WayFinder, Navigon, Copilot, Route66, Audio Compass, Destinator, Navman, Viamichelin
- Supports Headset, Handsfree 0.96 & 1.0, OBEX Synchronization, Object Push, NMEA Bluetooth profiles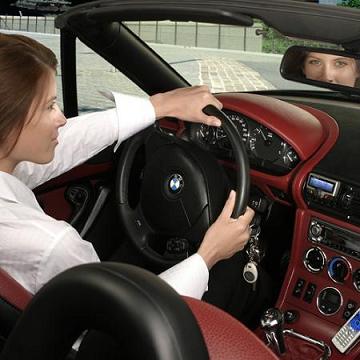 - Multifunctional External LCD Display, allowing to:
- Accept and initiate, reject and end calls
- View the active Network and Phone names, Signal and Battery strength meters
- View Caller ID for incoming calls and status of Bluetooth connection
- Adjust Volume during the conversation
- Access Phone Book in alphabetical order (vocal prompts for letters given)
- Access Call Lists (vocal prompts given)
- Dial a number (vocal prompts for digits given)
- Preset Voice Commands (vocal prompts given)
- Establish system settings (vocal prompts given)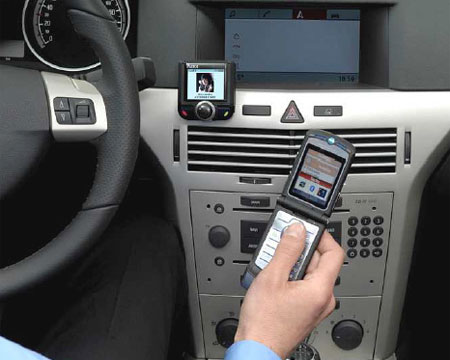 - Wordspotting - full voice control for pick up and hang up
- Full Duplex communication, DSP, noise reduction and echo cancellation
- Multiple numbers (home, office, cellular, etc.) for the same contact (V-card)
- Rapid Bluetooth synchronization with the phonebook
- Up to five phones can be paired with the same system
- Radio mute during calls, use of the car audio system for the highest quality of sound
- Redial
- Call Waiting
- Private Mode
- Multilingual Interface: English, Spanish, Portuguese, French, German, Dutch
- Easily installed by any qualified car stereo/alarm technician. Instructions enclosed
- Upgradeable software makes it the last car kit customer buys
-
S
oftware upgradeable wirelessly via Bluetooth -
no need for new installation work
- Range of adapter harnesses** for various car makes
- One year manufacturers warranty

* Feature support depends on the cellular phone software. See manual for details.
** Sold separately. Without an adapter additional labor may be required or a separate speaker may have to be used. Adapters for some car models are not available.