Ford Lincoln iPod Interface 1996-2008 FRDW/PC-POD2
FRDW/PC-POD2
Ford Lincoln Mercury iPod interface 1996-2008 for pre-wire vehicles

FRDW/PC-POD2



Basic iPod interface for most 1996-2008 Ford Lincoln Mercury vehicles.
Vehicle specific information:
Radio must have external CD-changer capabilities and pre-wire, CD button.

Not compatible with factory external CD-changer, or remove the CD-changer before using this interface.

Not compatible with factory navigation radios, excluding Escape.

Not compatible with factory RSE (Rear Seat Entertainment) present.

Connects to 12-Pin pre-wire. (Usually located in the rear of the vehicle or center console.)
Vehicles have a connection in the trunk for a CD-changer option. This adapter connects at
that CD-
changer
connection
and allows the radio to recognize the iPod like a CD-changer.
This is no FM
transmitter! Directly
connecting your iPod
is the only way to get that digital
quality sound that
you desire. (*Some vehicles have
CD-changer connection in glove box
or
armrest.) All of the
necessary cables are included, just plug it in
and
you are set to go.
Ford


1998-2009 All models that are pre-wire for a CD-changer (square 12 pin plug.)

Lincoln


1998-2005 Town Car
1998-2002 Navigator
1998 2003 Continental
Mercury
1998-2005 Grand Marquis
2004 Marauder
2005 Mariner
1997-2002 Tracer


and any vehicle that is pre-wire for a CD-changer (square 12 pin plug.)
for use with following apple ipod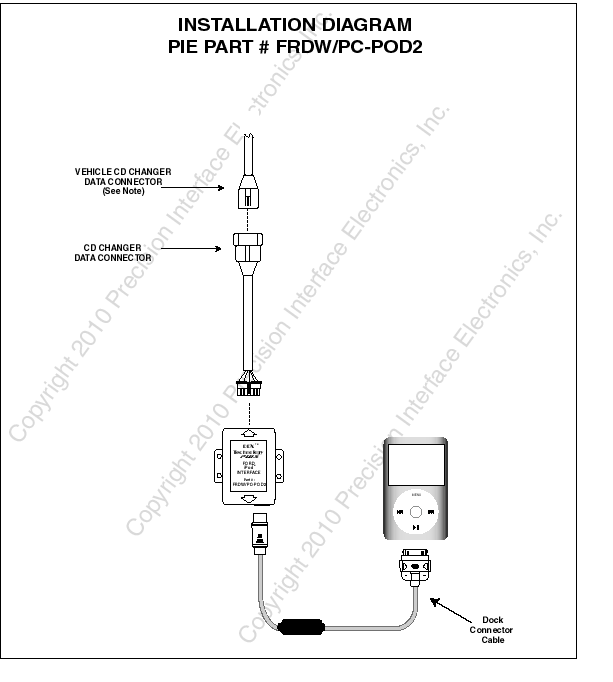 Not in stock Last update 08-23-14 Use the
PA11-FORD
Combine Your Purchase With
---