VW-AUX Volkswagen Auxiliary interface trunk plug
VW-AUX
Volkswagen 19

98-2006

Auxiliary audio interface trunk plug
VW-AUX
Pie VW-AUX Auxiliary audio input interface for Volkswagen factory Oem radios this interface connect to the VW external CD-changer plug and allow you to listen to an auxiliary source, such as an Mp3, iPod iPhone or any
portable audio source
through the Volkswagen head unit. No more sound-degrading FM modulator or clumsy cassette adapter. Get clean CD high quality
sound playing through your factory VW Oem radio. The Pie Aux-In mimics a CD-changer and "tricks" your VW radio into playing the auxiliary source. Volkswagen radio must have a CD button or external CD-changer controls. and needs to be prewired for a CD changer, if the changer is presents it needs to be unplug, no need to remove the VW Radio from the dash


1998-2008 VW radios with CD-changer control.

Listen to an auxiliary source through your factory VW audio system. iPod iPhone mp3

No need for sound-degrading Fm modulator tapes or FM transmitters.

Connects to factory VW 12-pin CD connection in left rear of trunk.
Volkswagen

Aux input for vehicles that are pre-wire for CD-changer.
1998-2008 Volkswagen Beetle (convertible pre-wire in console)
1998-2003 Volkswagen Cabrio
1999-2004 Volkswagen Eurovan
1998-2008 Volkswagen Golf
1999-2008 Volkswagen Jetta
1998-2008 Volkswagen Passat
2001-2008 Volkswagen Touareg


If the vehicle is not pre-wire, or if you like to plug the aux interface directly to the VW radio use the VWR-AUX for small radios 7 x 2 connecting your aux interface behind the Volkswagen Radio will give you better sound quality.

If you have a big Volkswagen radio 4 x 7 use the
VW02-AUX auxiliary interface.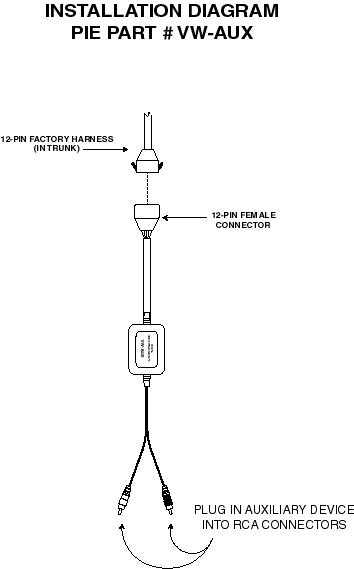 For tech support contact us
1-800-727-1466
Combine Your Purchase With
---