Toyota Auxiliary input adapter
TOY-AUX
Toyota

1998-2004

Auxiliary input adapter TOY-AUX
PIE TOY-AUX auxiliary input adapter audio jack for factory Toyota radios, this connect to your factory Toyota Radio and allow you
to listen to any external or portable audio source, such as an iPod, Mp3 player or DVD player, Satellite radio through the head unit digital CD-changer input port, this interface is not universal, it's made to work in a Toyota vehicles only, and please don't confuse with
FM modulator or FM transmitter. No more sound-degrading FM modulator or clumsy cassette adapter. Get clean, high quality sound playing through your factory Toyota Radio. The PIE Aux-In mimics a CD-changer and "tricks" your radio into playing the auxiliary source. Toyota aux audio input.

Not compatible with delco Radios model AD6809 AD6900 or AD6810.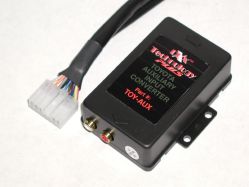 1998-2005 Toyota vehicles with CD-changer control. Listen to an auxiliary source through your existing audio system. No need for sound-degrading FM modulator. Connects to factory 12-pin connection at back of radio.
Notes: For models Toyota with Oem CD/DVD CHANGER or factory satellite radio, use pie X3 system to maintain function of external CD-changer
1998-2002 Toyota Avalon
1998-2002 Toyota 4runner
1998-2004 Toyota Camry
2000-2002 Toyota Camry Solara
1998-2002 Toyota Celica
1998-2004 Toyota Corolla echo
2001-2003 Toyota Highlander
1998-2002 Toyota Land cruiser
1998-2002 Toyota MR2
1998-2002 Toyota Rav4
2000-2002 Toyota Sequoia
1998-2003 Toyota Sienna
1998-2004 Toyota Tacoma
2000-2002 Toyota Tundra
1998-2001 Honda passport
New and improve audio interface for Lexus Scion Toyota auxiliary audio input AAI-TY3
For 2005 and up Toyota vehicles use the
If you are connecting and iPod iPhone we recommend using this Cable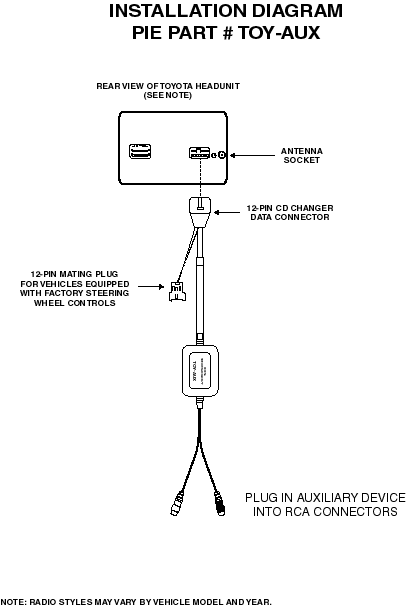 For tech support contact us
407-9331065
Toyota auxiliary audio input adapter
Combine Your Purchase With
---