Ford Lincoln Mercury Auxiliary input adapter
FRD03-AUX
Pie FRD03-AUX Ford Lincoln Mercury 2003-2005 Auxiliary input adapter
The PIE FRD03-AUX Auxiliary Input Converter converts the CD-changer port of your Oem factory Ford Lincoln Radio into an auxiliary input.
With this converter installed, you can now connect any device that has RCA outputs. Such as an iPod, Mp3 player, satellite radios
or any auxiliary audio device directly to your car radio without using an FM modulator. Compatible with all vehicles listed
below that are equipped with the external CD-changer controlling factory radio, The FRD03-AUX
connects at the rear of the factory radio plugging into the 16- and 24-pin connectors

.
Ford radio must have a CD button. not compatible with SAT button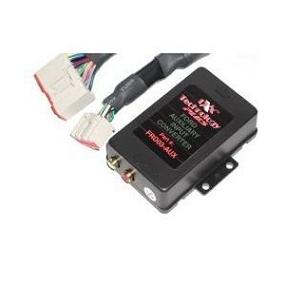 Important Application Notes:
If the factory external CD-changer is present, you will need to disconnect it from the factory harness.Not compatible with 2003-2005 vehicles equipped with the 6-Disc in-dash head unit that are not equipped with external CD-changer capabilities. Not compatible with vehicles with Ford's "1st generation" factory navigation system with the single disc CD player. or SAT ready

Ford:
2003-2004 Crown Victoria

2004-2005 Escape / Explorer

2004-2005 Freestar< Lincoln:
2004-2005 Aviator

2004-2005 LS excluding CD6 Radios

2003-2004 Town Car
Mercury:

2003-2004 Grand Marquis

2003-2004 Marauder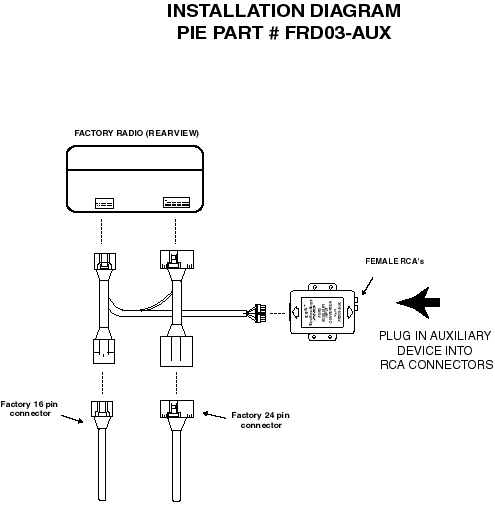 For more information call 407-9331065
Combine Your Purchase With
---