Ford iPod iPhone Interface
FRD04-POD/S
Ford iPod/iPhone Interface Adapter 2005-2010 Aux button FRD04-POD/S
Ford iPod/iPhone

integration kit

The FRD04-POD/S iPod

interface

allows you to connect your iPo

d/iPhone directly to
the original F
ord radio
of many 2005-2010 Ford,
Lincoln or Mercury vehicles with built in
Satellite control functions Ford
radio with
Aux button and Mp3 logo.
Using this interface, the iPod
will take
the place of
the Ford Sirius satellite
tuner, providing you with full iPod controls
from the factory
Ford radio.
The
FRD04-Pod/S
also gives you the option of using
the factory radio to control the iPod/iPhone
or
you can use the
iPod
controls . It also
charges the iPod while the iPod is connected
to the Ford radio. Works with new
iPhone/iTouch
and any older iPod
The Ford radio's satellite controls will be
utilized
to
operate the iPod/iPhone
allowing you
to
perform individual
search by artist, album, playlist,
and song title. In addition, your
Ford
radio
will display iPod
text fields in the following
manner: Ford satellite radio must be unplug,

it also charges 5 volts
USB and 12 volt
fire wire while the iPod is connected.

If using and iPhone you can also stream music from internet services like Pandora, Livio radio, i-Heart radio or Sirius XM internet. F
or aux audio input, use Ford auxiliary interface
FRD04-AUX
no controls or charging audio input only.

Artist Name in 12 characters scroll down Ford radio pictures link.
Song title in 16 characters, shows 8 characters at a time when
song is first selected and then 12
characters
shown when doing a songs search.
Artist Name in 12 characters.
Playlist Name in 12 characters.

Application Notes:


Connects to the 16-pin connector at the rear of the Ford radio.
Not

compatible with navigation equipped vehicles unless so noted.
Not

compatible if equipped with fact
ory satellite or factory DVD (RSE)
equipment. Will work if you
unplug the satellite radio or DVD
Must

have the

"Aux"

button on radio.
Compatible with all iPod's, iPhone's, and iTouch.

Vehicle Application List:

Ford


2008-2009 Ford Taurus
2007-2009 Ford Edge
2006-2009 Ford Explorer
2007-2009 Ford Expedition
2004-2009 Ford F-150
2005-2007 Ford Focus
2005-2007 Ford Freestyle
2006-2009 Ford Mustang ipod interface radio with mp3 logo
2007-2009 Ford Sport track
Lincoln :


2006-2008 Lincoln MARK LT
2007-2009 Lincoln Mkx
2007-2009 Lincoln Navigator
Mercury:


2006-2009 Mercury Mountaineer
2006-2009 Mercury Milan



***Must have sat controls cd6 with Mp3 logo Ford F-250,350,550
Compatible only with radio models 6C3T-18C869-AB 6C3T-18C869-AD 8C3T-18C815-FA only.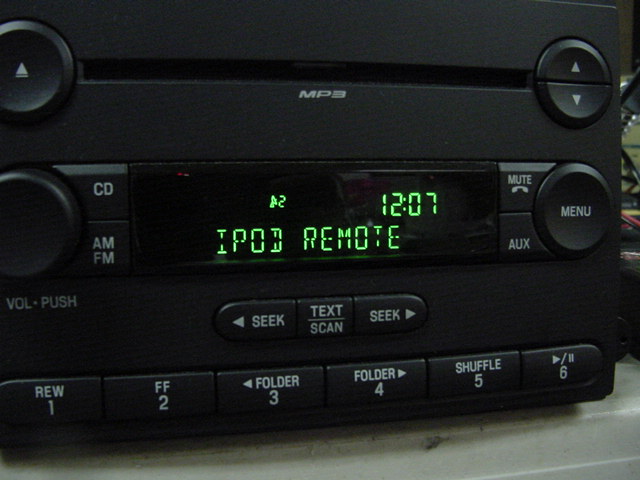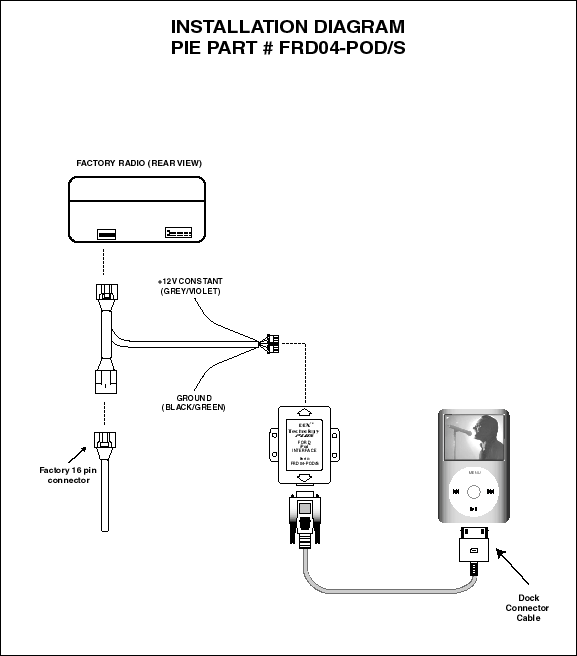 For more information call
1-800-727-1466
Combine Your Purchase With
---