Pie X3-CHRY04 Chrysler input auxiliary interface
X3-CHRY04
This is the vehicle-specific X2 T-harness and brain module that connects to the vehicle's audio system.
The X2 system includes a
Selector SWITCH (included), and
Chrysler Dodge Jeep T-harness (included) for your audio
systems. The Selector Module has

two

pairs
of gold-plated RCA inputs for connecting devices such as: iPod;
D
igital
Satellite
Receiver; DVD
player; VCR VCP; PlayStation; MP3 player; portable MiniDisc; portable CD; portable DVD
w/built-in
monitor
.
The wired Selector switch can be mounted anywhere on or near
the dash for ultimate convenience. The
Remote Selector Box has a single button switch to select
between two auxiliary sources and the CD changer.

is selected (AUX 1, AUX 2, or the CD changer) -- convenience in the extreme!
Now you can switch between auxiliary sources at will! The X2 Auxiliary Input Selector allows the user to add
up to two auxiliary input
sources, connected directly between the CD-changer and factory audio systems.
The X2 interrupts the audio of the CD-changer, switching
between two user-selectable RCA level auxiliary
sources, and defaults back to the CD-changer if desired.
The X2 switchable Auxiliary Input Selector accepts two
auxiliary input sources with a CD-changer present!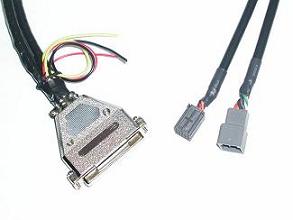 Vehicle fits:

2003- 2011
Chrysler most vehicles with an external source
All Chrysler Dodge Jeep radios, 2002 2003 2004 2005 2006 2007 2008 2009 2010
Radio needs to have a MODE button and needs to have an external CD changer, rear DVD or Sirius satellite radio
We have a new updated interface, plug and play no need to look for power or ground, just 2 plugs behind the factory Mopar Radio
For more information call 1-407-9331065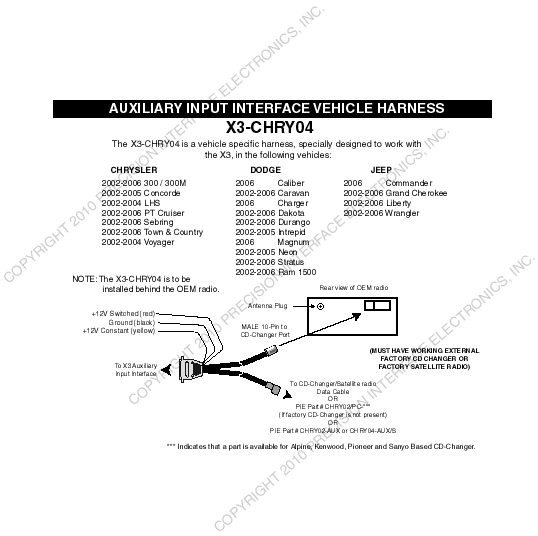 Combine Your Purchase With
---