Cadillac STS iPod Interface ISGM574
ISGM574
Cadillac STS iPod Interface ISGM574
Cadillac iPhone/iPod Adapter, this kit will allow you to listen charge and control your iPod using the factory Cadillac STS radio, all the iPod text will be display in the Cadillac radio screen, adapter allows you to use all the buttons from the radio and steering wheel controls. Directly connects to the factory XM tuner and will give you clear CD sound quality
allowing
you to browse your music, by Artist Album Genre and Playlist from the Cadillac Sts radio controls will work and charge all iPod's/iPhone 5 volts USB.
If using and iPhone you can also stream music from internet services like Pandora radio, Livio radio, and online XM Sirius.
PXAMG iPod interface.

iPod Cable.

Auxiliary Input Cable.

Cadillac STS Harness.
Keeps the Cadillac Radio Intact Plug-and-play interface eliminates the need to replace the factory Cadillac radio, maintaining original look.

Saves Time and Money technology and compact size provide huge advantages over buying and installing a new stereo.

Retains Original Vehicle Features – Advanced capabilities retain and all safety and convenience features tied to the factory system Satellite, Rear Seat Entertainment, and CD-changers.

Second auxiliary input connects Mp3 players, satellite radio DVD or any portable audio device.

Delivers Digital-Quality Audio – Direct connection to the factory radio ensures static-free, clear sound from the iPod and many other portable media devices.

Enables All iPod Features and Functions from the iPod and the Radio – iPod Interface displays text and provides iPod control from the iPod and the radio.

Works with Multiple Applications – USB connection allows the GateWay™ to be continually updated with downloadable firmware to work with the latest applications.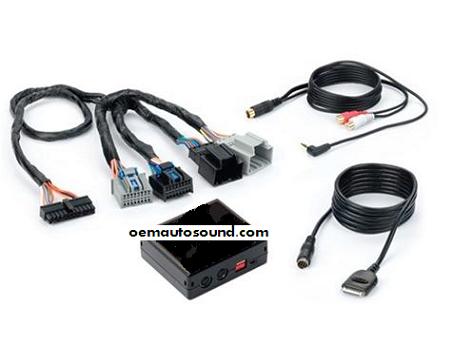 2006 - 2012 Cadillac STS
Interface plugs into the back of the radio, Cadillac radio MUST be either equipped with XM or satellite ready radio.
Combine Your Purchase With
---