Android Bluetooth Audio input iSFM21
ISFM21
Android Bluetooth Audio input interface Adapter
iSFM21
Android Bluetooth auxiliary input interface works for any car stereo with an FM radio, Factory installed or aftermarket, this allows you to connect to your Smartphone tablet or any system running android
via Bluetooth

,

thanks to the iSFM21. It doesn't get any more universal than this. The iSFM21 connects to
the car stereo in 1 or 2 ways:
1. Fm Modulator via the vehicles Fm radio hard wire not wireless This is not FM transmitter not wireless


2. Direct connection to radios with Auxiliary inputs.Regardless of the option used, the iSFM21 allows you to enjoy static-free music from your android device phone through
your car stereo. you can manually set the station from

the interface, or use the android system from your device. P
air up the phone with the adapter and start the music or wire the Audio outputs (Rca) to any radio with an
Aux input or Auxiliary input adapter then press the "Aux, Cd

, or Sat button on the radio. To browse and
select tracks, or use Internet radio stations like Pandora livio radio or
any internet radio the operator simply uses the phone standard buttons
or touch screen controls.
on/off or change Fm Frequency.
»
Compatible with any Factory or Aftermarket FM Radio or radios with Aux inputs.
» Provides an aux audio connection solution
» No visible wires in the vehicle.
» Auto- reconnect when turning on the ignition.
» Four selectable FM broadcast Frequencies
» Interrupts incoming antenna signal when in use for best sound performance.
» Can be used for audio streaming from your device Pandora livio iheart radio
» Full band Fm broadcast selection via Android App
The TranzIt Blu (ISFM21) Bluetooth communication to enable wireless audio streaming for virtually any vehicle and any Android smartphone, .This android interface adds an interference blocking system that disengages the incoming antenna signal when audio playback is detected.The Bluetooth uses the A2DP profile, and the Android app control the system
.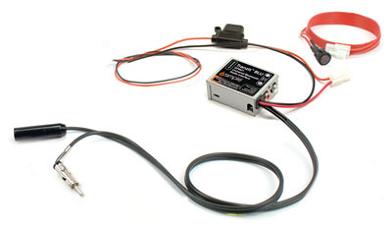 Download TranzIt blu
We have a new interface for iPhone and Android ISFM23

For more information call
1-407-9331065
Combine Your Purchase With
---