BMW iPhone Interface PA12-BMW
PA12-BMW
BMW iPhone iPod Interface
PA12-BMW

BMW iPod integration kit, full iPod control from your BMW Original radio, this USA spec iPod integration kit allows you to connect listen control and charge your iPod iPhone from the factory BMW car stereo and steering controls. Late 2003 BMW radios will display iPod text, you can scroll
through your songs playlists artist titles,

shift between

tracks and up to five BMW playlists and adjust volume without taking your eyes off the road or your ears off the music. You may also, select "Random" and let the music take you to unexpected places

if using an iPhone you can also listen to internet services live Pandora, Livio radio or online satellite radio comes with second audio input port for any other audio source.
The interface connects to any iPod with a docking connector and works with BMW and Mini Cooper Oem
audio

systems
Its on-

board software
translates commands from your factory BMW radio's
CD-changer controls into commands the iPod
understands.
This interface enables the iPod to take the place of a
BMW CD-changer and
provides
the following benefits:
Directs the iPod's audio output to your factory BMW audio system for optimal sound.

Controls the iPod via vehicle's radio and steering wheel controls.

Charges the iPod's internal battery; charging stops automatically one hour after the iPod is paused, the iPod goes into sleep mode when charging stops 5v USB.
The PA-12 BMW now includes the CB-PA85 cable,
The PA12-BMW provides two operation modes:
All control functions on your iPod are available, you can search and select music on your iPod

directly just as you would when using it as a portable unit, you can also still use the track up down, fast forward and reverse button on your radio to control music playback.
Artist name and song title information can be displayed on BMW's Business CD model radio.


All audio tracks on the iPod will be played at Disc 6. The track order is determined by
the default order on the
iPod. Selecting discs 1 through 5 on the factory radio will allow
playback of 5
playlists on the iPod if the Aux

Input is not used.
You
can select a playlist by pressing the Disc Up or
Disc Down buttons

.
In order for the adapter/factory radio to recognize a playlist, it must be named BMW 1...
through Bmw5... Text
can follow the BMW name and number, such as BMW 3_artist name or Bmw2-jazz.
For a given disc slot (1-5), if there is no playlist named BMW followed by that number, that
disc slot will not be available.
In addition to the iPod input on the PA12-Bmw there is an auxiliary input (stereo RCA) for use with another source,
such as a DVD system,
satellite radio, or game system. The aux input is selected at Cd 6 Track 1 using the factory radio controls. This aux input can be used with or
without the iPod connected

.
When the Aux input is used, the "All Tracks" playlist is moved to Disc 5, and playlist "BMW5" is lost

.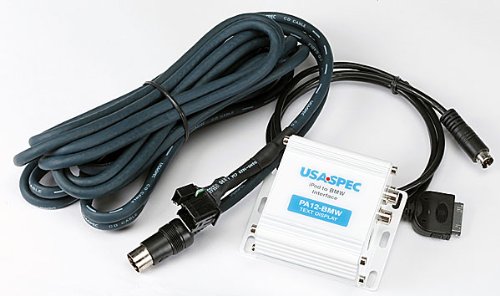 Compatible Vehicles:


1996 - 2005 BMW 3 SERIES
1998 - 2003 BMW 5 SERIES
1999 - 2001 BMW 7 SERIES
1999 - 2006 BMW X3
1999 - 2006 BMW X5
2000 - 2006 BMW Z3
1999 - 2006 BMW Z4


2003 - 2004 Laand Rover Range rover HSE

pa12-BMW DSP

BMW vehicles with DSP
sound system use
For more information call
1-800-727-1466

livechat
Combine Your Purchase With
---
Showing comments 1-2 of 2