Chevrolet IPhone Interface PA15-GM
PA15-GM
Chevrolet G

MC

iPod

I

nterface USA SPEC PA15-GM
T
hi
s iPod interface will allow you to connect your iPod iPhone to
your factory Chevrolet GM stereo system. The sound is CD crystal clear, and while using
this adapter you can control the songs and volume using the buttons on the Chevrolet GM
radio, or on the steering wheel. Don't be locked out of your iPod by other adapters, this
adapter allows you to use the iPod wheel to navigate through your entire music collection. The

i

Pod
adapter will also power and charge the iPod while in use, all from the same cable. Chevrolet radios with satellite controls (band button) will display iPod text on radio screen

.
All you see is one single cable plugging into the bottom of the iPod. Arrive at your
destination in style, and with a full iPod battery too! If using and iPhone you can also stream music from internet services like Pandora Internet radio

,

Livio radio , i-Heart radio or online

XM

Sirius satellite radio PA15-G

M.
Plug your iPod iPhone to your GM Chevrolet radio.
Control using the iPod, Factory GM radio, and steering wheel controls.
Powers and Charges the iPod 12v and 5 volts USB.

Clean look.
iPhone (3G – 5G)
iTouch (all)
iPod Video
iPod Nano
iPod Mini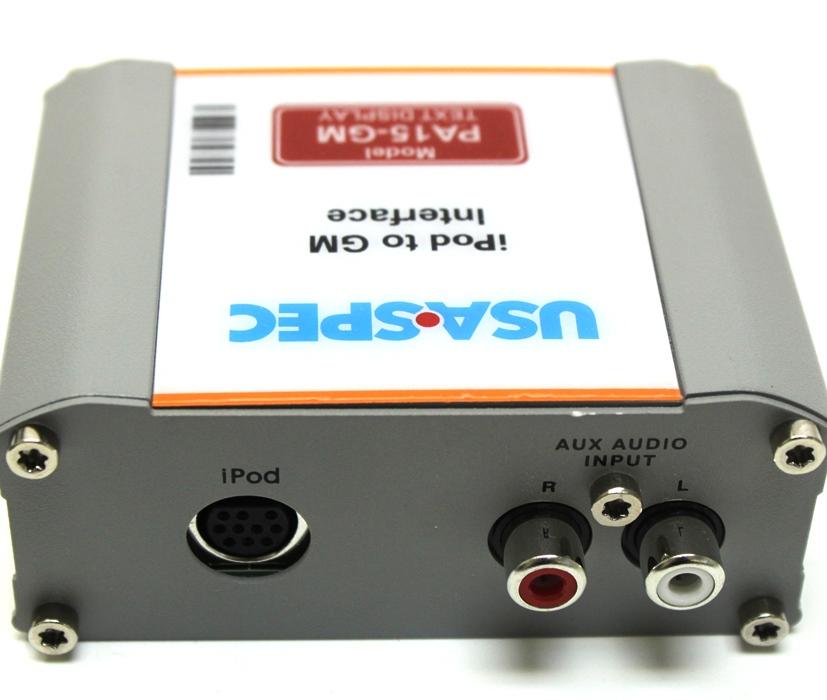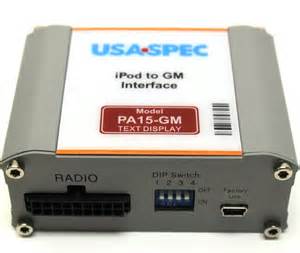 How it works:

Chevrolet GM vehicles have a connection for external CD-changer or XM radio.
This
adapter connects at that
connection and allows the radio to
recognize the iPod like a CD-changer or XM radio.
This is not a FM transmitter! Directly
connecting your iPod is the only way
to get that digital quality sound that
you desire. (*Some vehicles have CD-c
hanger connection in glove box or
armrest.) All of the
necessary cables
are included, just plug it in
and you
are set to go. If you have XM radio there is no need to remove the factory radio, the iPod interface can be plug at the XM tuner.

XM1 will be XM and XM2 will be the iPod/iPhone.


Works in all 2003 and up GM Radios single CD or in dash 6 disc CD changer normal audio and Bose system

Installation:

The iPod adapter comes with the correct plug to simply plug the adapter into the CD-changer or XM connector
behind the radio, (if there is no XM tuner in the vehicle.) There is no cutting or splicing of wires necessary. Includes installation cables,
mounting screws and user's manual. If there is no XM tuner in the vehicle.
Plus DVD player, satellite radio or other audio device can be used in conjunction with the iPod through aux audio input jack

.

Features:
Connect, Control, Charge, and Play an iPod/iPhone through your Factory Radio.
3 Plug-and-Play Harnesses for easy installation.
Factory Radio operates the iPod just like a CD-changer or XM.
You can also use your iPod to select Tracks & Playlists.
Adds Additional Auxiliary Input for a DVD Player, Portable Satellite Radio Tuner, or Mp3 Player.
True Digital Quality Sound through Factory Radio.
Access and Control up to 5 different Mobile Playlists.
Song Up / Down / Shuffle / Random Controls
Unlimited Songs per each Mobile Playlist.
Auto Memory Feature locates last song played on each Playlist.
Auto Skip 10+ Songs in each Playlist with Factory CD-changer Fast Forward Button.
Auto Charger Feature Charges iPod Battery and automatically stops after 1 hour of non-use.
All Required Cables Included (see exceptions below.)
Application Notes:
Connects at radio, (radio must have band Aux or Disc button.)

**new RD's radios with CD-changer control.

***only work with AM/FM/ and Mp3 Player.
Compatible Vehicles:
Chevrolet Applications

2000-2009 Chevrolet Impala
2000-2006 Chevrolet Monte Carlo
2003-2006 Chevrolet Avalanche
2004-2004 Chevrolet Blazer
2005-2012 Chevrolet Colorado
2005-2006 Chevrolet Equinox
2004-2004 Chevrolet S-10 Truck
2003-2007 Chevrolet Silverado
2005-2006 Chevrolet SSR
2003-2006 Chevrolet Suburban
2003-2006 Chevrolet Tahoe
2004-2009 Chevrolet Trail Blazer
2005-2007 Chevrolet Uplander
2003-2004 Chevrolet Venture
iPod interface for older

Chevy Gm radios

For easy access to Direct Mode Just select preset 5 or 6 for direct mode and then select PANDORA, LIVIO, or SIRIUS XM right from your iPod.

Sirius XM - Choose Direct Mode, select your Sirius XM iPhone app, and pick your favorite station.
PANDORA – Choose Direct Mode, select your Pandora iPhone app, and pick your playlist! The radio or steering wheel controls allow users to skip forward to next song.
LIVIO – Choose Direct Mode, select your LIVIO iPhone app, and pick your radio station! The radio or steering wheel controls skip through to next saved radio station.

Works with radios that have satellite radio, In-Dash 6 disc changers, Mp3 Player,

Navigation Units, and Rear seat Entertainment.

For more information call: 407-933-1065

livechat
Combine Your Purchase With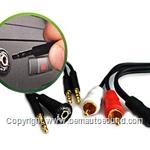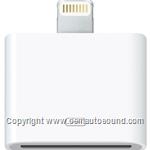 ---