DVD Keeper CAN-BUS Ford FRD04-DVD
FRD04-DVD
DVD Keeper For RSE Equipped CAN-BUS Ford, Lincoln, Mercury 2006-2007 Vehicles
Pie FRD04-DVD
allows you to maintain the factory DVD player in your Ford, Lincoln, and Mercury Group vehicles when the
Oem Radio is replaced with an aftermarket unit.
The FRD04-DVD will provide the Oem DVD player with the necessary Can-Bus signals it needs to turn on and off with the vehicle.
The factory DVD audio is provided through the FRD04-DVD so that it can be used with the aftermarket radio's auxiliary input.
Using the FRD04-DVD, the DVD audio level is also adjustable (up to 2 Volt Rms) so that it can be level-matched to the Am, FM, Cd
modes of the aftermarket Radio

.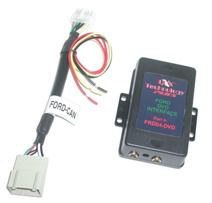 Ford
2006-2007

Ford

Explorer
2005-2006

Ford

Freestyle


Lincoln


2006

Lincoln

Mark LT


Mercury


2006-2007
Mercury
Mountaineer


For more information call 1-800-727-1466


---